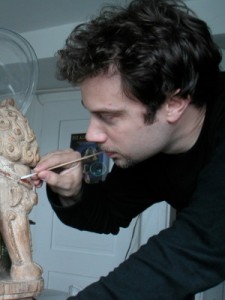 Né à Zurich en 1972. Ecole Rudolf Steiner, maturité fédérale en 1992. 1994-97 Etudes de conservation restauration d'objets archéologiques et ethnographiques à l'Institute of Archaeology, University College London. Stages en formation au British Museum, la Wallace Collection, au Musée National Suisse, ainsi que fouilles en Turquie (Troie, Sagalassos). 1997 présentation du travail de diplôme « The use of low pressure hydrogen gas plasma reduction on depletion gilded copper alloys » (avec first class honours). 1999 The conservation of outdoor bronze sculptures, New York Conservation Center; 2001 Masterclass on metallography of ancient and historic metals, Instituut Collectie Nederland, Amsterdam; 2004 Electrolytric techniques in the conservation of metals, HE-Arc, La Chaux-de-Fonds. 2011-12 Master in the Arts of Africa, Americas and Oceania (avec distinction), Sainsbury Research Unit, University of East Anglia, Norwich.
1997-2004 Conservateur restaurateur pour métaux archéologiques au Musée National Suisse. Depuis 1999 professeur chargé d'enseignement à la Haute Ecole de Conservation-Restauration Arc, Neuchâtel. Dirige depuis 1997 l'Atelier de Conservation Valentin Boissonnas à Zurich. Membre de la Commission d'Expertise pour TEFAF New York et Maastricht. 2002-2008 Membre du comité de l'Association Suisse des conservateurs restaurateurs SKR/SCR. 2004 Membre du Comité scientifique d'ICOM-CC Metals, 2003-2006 coordinateur du groupe de travail l'ICOM-CC AIAE. Consultant au Zentrum für Kulturgüteranalytik de l' EMPA et pour le périodique « Beiträge zur Erhaltung von Kunst und Kulturgut » (VDR).
Projets internationaux en conservation-restauration et formation de professionnels en Egypte, Pays Bas, Inde, Cameroun, Afrique du Sud et les Etats Unis. Coordinateur du projet HE-Arc de recherche et restauration de la momie de Ta-Sherit-en-Imen de Brissago.
Publications