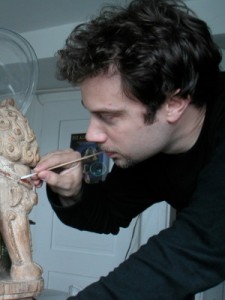 Born in Zurich 1972. Rudolf Steiner Schule, 1992 Federal Matura. 1994-97 Studies in conservation of archaeological and ethnographic artefacts at the Institute of Archaeology, University College London. Internships at the British Museum, Wallace Collection, Swiss National Museum, as well as excavations in Turkey (Troia, Sagalassos). 1997 dissertation 'The use of low pressure hydrogen gas plasma reduction on depletion gilded copper alloys' (obtained with fist class honours). 1999 The conservation of outdoor bronze sculptures, New York Conservation Center. 2001 Masterclass on metallography of ancient and historic metals, Instituut Collectie Nederland, Amsterdam. 2004 Electrolytric techniques in the conservation of metals, HE-Arc, La Chaux-de-Fonds. 2011-12 Master in the Arts of Africa, Americas and Oceania (with distinction), Sainsbury Research Unit, University of East Anglia, Norwich.
1997-2004 Conservator for archaeological metals at the Swiss National Museum. Since 1999 lecturer in metals conservation at the Haute Ecole de Conservation-Restauration, Neuchâtel. Since 1997 head of the Atelier de Conservation Valentin Boissonnas in Zurich. Vetting committee member for the TEFAF New York and Maastricht. 2004 Member of the Scientific Committee ICOM-CC Metals, 2003-2006 coordinator of the ICOM-CC sub-working group AIAE. 2002-2008 member of board of the Schweizerischer Konservatoren und Restauratorenverband SKR/SCR. Advisory member of board of the Zentrum für Kulturgüteranalytik EMPA, and the periodical 'Beiträge zur Erhaltung von Kunst und Kulturgut' (VDR).
International projects in heritage conservation and training of professionals in Egypt, Holland, India, Cameroon, South Africa and the United States of America. Project leader for the interdisciplinary HE-Arc research and restoration project of the mummy of Ta-Sherit-en-Imen.
Publications